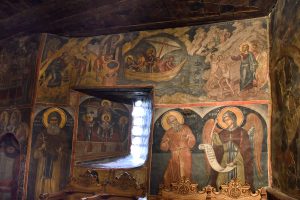 The monastery was probably founded in the 14th century. It was restored in late 15th and early 16th centuries when – according to the ktetor's inscription – the katholikon was built using funds provided by Larissa Metropolitan Dionysius († 1510) and Nicanor, the Exarch of Stagon (†1521).
The katholikon consists of an altar, a small nave and a relatively spacious narthex. To a great extent, the size and the form of the premises are determined by the rock on which the monastery is erected. There is a low blind dome erected above the nave supported by four arches, and the narthex is covered by a wooden roof.
The murals were made in 1527 after they were commissioned by the hierodeacon Cyprian mentioned in the ktetor's inscription who is not known from other sources. The same was probably painted on the northern wall of the sanctuary.
The author of the murals is the Cretan Theophanes Strelitzas-Bathas.
Despite the limited space, in addition to the common themes and images in the altar there are some composition such as troparion of the Canon of Holy Saturday ["Above enthroned and below in the tomb"], Prophet Jonah in the mouth of the whale, the Sacrifice of Abraham. Christ Pantocrator is depicted in the dome, underneath him is the Divine Liturgy, prophets and the images of the evangelists in the pendentives. Some warrior saints in their accoutrements dominate the first register in the nave. St. Nicholas, the patron saint of the monastery is depicted in front of the sanctuary to the south and Saint John the Baptist to the north. The lunettes formed underneath the arches supporting the vault as well as the widths of the arches are filled with a cycle of the Great Feasts supplemented by numerous episodes from the Passion of Christ.
The Last Judgment, scenes from the Miracles and Acts of Jesus, the Dormition of St. Nicholas, the Dormition of St. Ephrem the Syrian, Old Testament episodes, the most prominent representatives of the monks and the ktetors of the monastery: Dionysius and Nicanor near the image of the Theotokos with the Christ Child on a throne and prophets are depicted in the narthex.
Main References
Σοφιανός, Δ., Ε. Τσιγαρίδας. Άγια Μετέωρα. Ιερά μονή Αγίου Νικολάου Αναπαυσά Μετεώρων. Ιστορία –Τέχνη. Τρίκαλα, 2003.